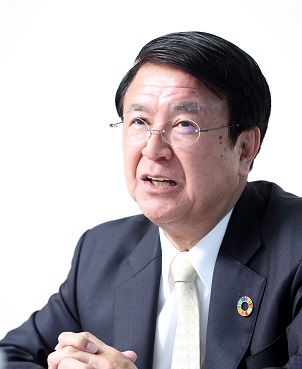 We would like to express our sincere gratitude to all our shareholders for your continued support.
In September 2020, a fire accident occurred at the Company's Inuyama Plant, in which two of our employees lost their lives. In order to be a safe company where this kind of accident will never occur again, we are currently making company-wide efforts on disaster prevention measures.
Amid these efforts, due to misconduct concerning quality, UL's certification for our engineering plastic products has been rescinded and the ISO9001 certification granted to the Engineering Plastics Operating Department and the Functional Materials Production and Technology Department has been cancelled or temporarily suspended.
We deeply apologize to our clients and other concerned parties for the enormous inconvenience and concern caused by these incidents.
We are taking the situation very seriously, and will thoroughly review processes pertaining to quality assurance, consider effective measures to prevent recurrence and steadily implement remedial actions.
As for the business environment surrounding the Group in the nine months ended December 31, 2020, despite the economic activities recovering in China due to the progress in suppression of the novel coronavirus disease (COVID-19), the slowdown of the economy is intensifying due to infection spreading again in the United States and Europe. Despite temporary improvement of business confidence in Japan, it is slowing down due to infection spreading again.
In this business environment, in "Films and Functional Materials," sales of polarizer protective films for LCDs "COSMOSHINE SRF" grew, driven by strong demand. In "Mobility," sales of engineering plastics and airbag fabrics recovered due to the recovery of automobile production globally, but were unable to compensate for the impact of reduced automobile production through the six months ended September 30, 2020. In "Lifestyle and Environmental," high-performance fibers and textiles were sluggish due to the decline in demand. In "Life Science," the contract manufacturing business of pharmaceuticals faced challenges, but sales of PCR testing-related raw materials and reagents achieved significant growth due to the spread of COVID-19.
As a result, consolidated net sales in the nine months ended December 31, 2020 decreased ¥4.1 billion (1.7%) over the same period of the previous fiscal year, to ¥243.9 billion. Operating profit increased ¥2.3 billion (14.6%), to ¥18.3 billion, ordinary profit decreased ¥1.0 billion (7.3%) to ¥12.5 billion, and profit attributable to owners of parent decreased ¥5.9 billion (99.6%), to ¥0.0 billion.
Regarding the business environment going forward, it is expected that it will take more time for the spread of COVID-19 to come under control and economic activities to normalize. Regarding the consolidated operating results for the fiscal year ending March 31, 2021, the films business is expected to perform strongly despite concerns regarding the impact of COVID-19 spreading again. However, due to factors including the recognition of impairment loss on business assets for the acrylic fiber business, the Group is forecasting net sales of ¥335.0 billion (a decrease of ¥4.6 billion from the previous fiscal year), operating profit of ¥23.0 billion (an increase of ¥0.2 billion), ordinary profit of ¥16.0 billion (a decrease of ¥2.0 billion), and profit attributable to owners of parent of ¥0.0 billion (a decrease of ¥13.8 billion).
In terms of dividends, its basic policy is to continually provide a stable dividend, in a comprehensive consideration of such factors as sustainable profit levels, retention of earnings for future investment, and improving the financial position to provide shareholders returns. Regarding the year-end dividend for the fiscal year ending March 31, 2021, we currently expect to pay \40 per share as well as the previous fiscal year.
We will make company-wide efforts on the prevention of recurrence to recover the trust lost because of the fire accident and quality issue.
February 2021